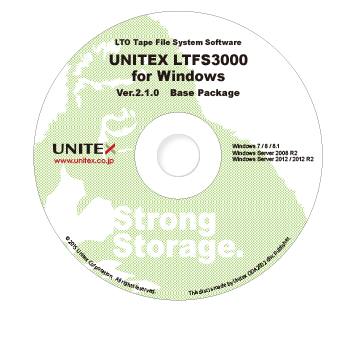 UNITEX LTFS3000

LTO Tape File System Software
Enables all operations/management
from one GUI window
Features
Easy operation from one GUI window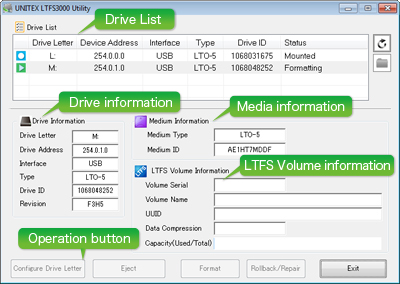 To achieve more user friendly operatability, all functions are put into one GUI window. UNITEX LTFS3000 utility enables intuitive operation even for the users who use LTFS for the first time.
Enables move/copy of the data by drag-and-drop operation from Windows Explorer or Mac OS X Finder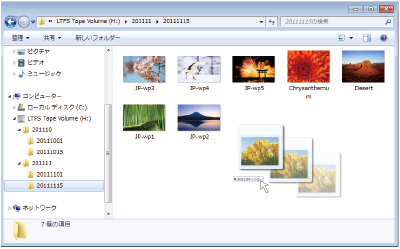 User can handle data in LTO tape with file-by-file basis like hard disk or USB memory. Enables copy/move/deletion of the files by drag-and-drop on Windows Explorer or Mac OS X Finder by making LTO tape a directory. Also enables OS standard file/folder operation such as copy command through command prompt.
Simultaneous operation of multiple drives

Enables simultaneous operation of multiple LTO drives in one system. It save you lots of time in case of necessity of backup media etc.
The latest version of software is available from download site

UNITEX LTFS3000 utility software can be downloaded from UNITEX WEB page after user registration

Advantages
Enables share & exchange of data under multiple OS environment (Windows, Mac OSX, Linux)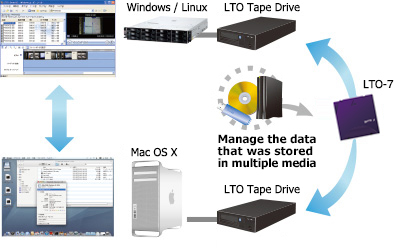 It works as a common file system under multiple OS environment. It is suitable to archive Cold Data which will not be used frequently and needs to keep long term such as large capacity of unstructured data like 4K, 8K or 3D.
By generation management function of recording data, supports recovery of the data recorded in the past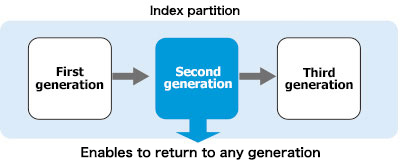 Rollback feature of LTFS enables to return the data of LTFS tape to any generation. As a result, it is possible to restore the file already deleted or previous file before overwrite. Rollback of UNITEX LTFS3000 tape can be made by "Rollback, Repair" button on the utility screen.
Large capacity 12TB is available easily
(when LTO-8 tape is used)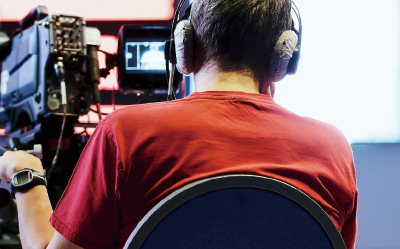 Archive of video assets
Delivery of the video related post production work
Production, storage and delivery in the media industry
Storage and delivery of CAD/CAM design at manufacturers
Image processing and medical records in the medical field
Long-term storage and collective management of video data of the surveillance camera

Structure
What's LTFS?
Tape is divided into two parts in index partition and data partition (partitioning). Information of data is stored to index partition. And it enables direct search of data.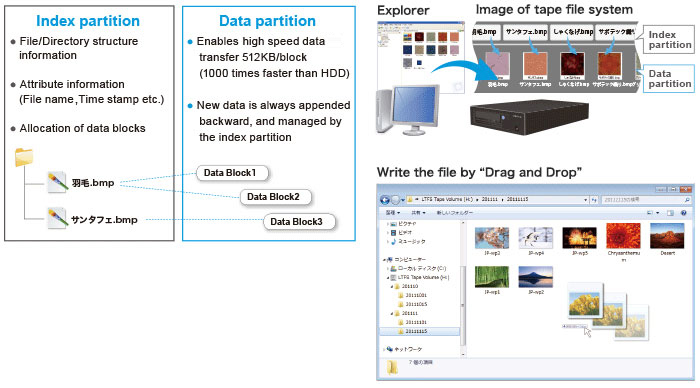 Specifications
UNITEX LTFS3000 for MacOSX
UNITEX LTFS3000 for MacOSX needs the following OS and computer in which the software can work.
Name
Equipment/Environment
Supported OS
OS X 10.11, macOS 10.12, macOS 10.13*, macOS 10.14, macOS 10.15
*macOS 10.13 is supported only with SAS connection.
Supported Media
・LTO Ultrium 8 tape
・LTO Ultrium 7 Tape
・LTO Ultrium 6 Tape
・LTO Ultrium 5 Tape
*WORM media is not supported
LTO Tape Drive
[USB Series]
・UNITEX LT80H USB
・UNITEX LT70H USB
・UNITEX LT60H USB
・UNITEX LT50H USB
・UNITEX LT70 USB
・UNITEX LT60 USB
・UNITEX LT50 USB

[USB/SAS Series]
・UNITEX LT80H USB/SAS
・UNITEX LT70H USB/SAS
・UNITEX LT60H USB/SAS
・UNITEX LT50H USB/SAS
・UNITEX LT70 USB/SAS
・UNITEX LT60 USB/SAS
・UNITEX LT50 USB/SAS
[SAS Series]
・UNITEX LT80 SAS
・UNITEX LT70 SAS
・UNITEX LT60 SAS
・UNITEX LT50 SAS




UNITEX LTFS3000 for Windows
UNITEX LTFS3000 for Windows needs the following OS and computer in which the software can work.
Name
Equipment/Environment
Supported OS
Windows 7(x86/x64)
Windows 8(x86/x64)
Windows 8.1(x86/x64)
Windows 10(x86/x64)
Windows Server 2008(x86/x64)
Windows Server 2008 R2(x64)
Windows Server 2012(x64)
Windows Server 2012 R2(x64)
Windows Server 2016(x64)
Supported Media
・LTO Ultrium 8 Tape
・LTO Ultrium 7 Tape
・LTO Ultrium 6 Tape
・LTO Ultrium 5 Tape
*WORM media is not supported
LTO Tape Drive
[USB Series]
・UNITEX LT80H USB
・UNITEX LT70H USB
・UNITEX LT60H USB
・UNITEX LT50H USB
・UNITEX LT70 USB
・UNITEX LT60 USB
・UNITEX LT50 USB

[USB/SAS Series]
・UNITEX LT80H USB/SAS
・UNITEX LT70H USB/SAS
・UNITEX LT60H USB/SAS
・UNITEX LT50H USB/SAS
・UNITEX LT70 USB/SAS
・UNITEX LT60 USB/SAS
・UNITEX LT50 USB/SAS
[SAS Series]
・UNITEX LT80 SAS
・UNITEX LT70 SAS
・UNITEX LT60 SAS
・UNITEX LT50 SAS