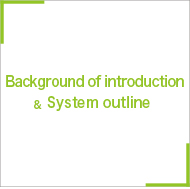 In recent years, a variety of things have been digitized. So, numbers of companies who centrally manage all data including internal documents and materials by in-house server have been increased. The amount of data has been increased day by day. Peach John Corporation, who is selling underwear for women, has taken the way to save all of the in-house data to a file server. Since the data has been increased in recent few years drastically, they faced a situation which increase of the data affected to the mission-critical system. However, in terms of cost, they examined to adopt LTO tape which is suitable for storage of large capacity and long-term rather than the expansion of the NAS which has been conventionally used. By connection with USB3.0, the LTO drive can be carried easily because of compact size, also it can be introduced inexpensively. Since these factors were duly complied with the requests, Unitex LT60 USB was chosen.
PEACH JOHN CO.,LTD.
JPR Harajyuku Bldg,6-17-11 Jingumae, Shibuyaku Tokyo, Japan

Catalog mail order and Internet & Store sales on women's underwear and fashion accessories.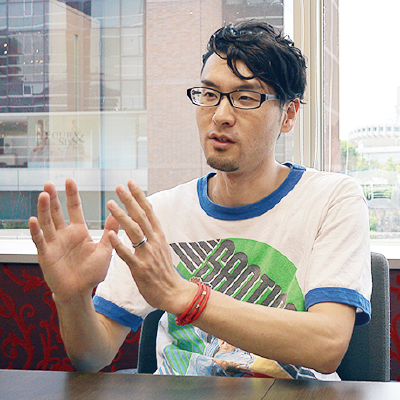 Manager,
System Administration Department Business Management Headquarters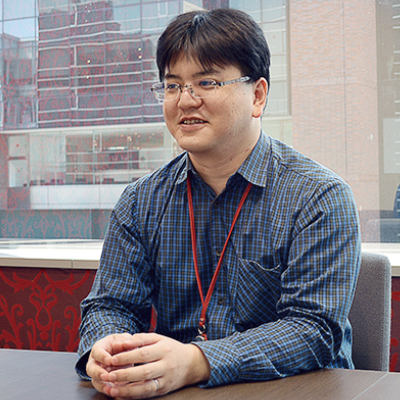 Information System Section Corporate Planning Department

Catalog data which becomes about 500GB per one season is stored by high speed to LTO tape at the field level. In addition, the LTO drive is used as system backup.
Brand was expanded with the times.
Moreover, capacity and variety of the data was increased.
Peach John Co., Ltd has more than 20 years history since they were founded as a mail-order company of women's underwear. Mr. Maeda who is general manager of system administration department said.
"We developed 3 brands and started to sell mainly underwear also room wear, outer wear and interior other than fashion under each brand name. Although all of the brands are for young people, we wanted that the brands will be supported from a wide range of customers. As a result, the number of the item has been expanded naturally. Therefore, numbers of item became more than 90,000 as a total including the discontinued item. Also the data capacity became large due to high resolution pictures because of the evolution of camera technology. Since total capacity of catalog data including pictures for the item was more than 500GB per one season, we were strongly afraid that the increased data may affect to the core system. We had to somehow quickly because we cannot interrupt the work of our employees. At that time, our fileserver which stored all of the data already became mission critical."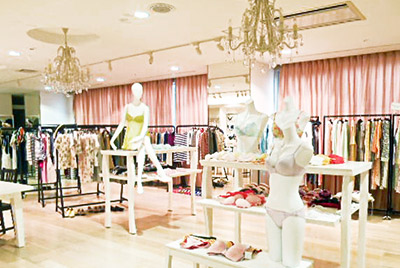 New item is introduced continuously in every season . A huge number of products are displayed in headquarters showroom.
Plan was changed from the extension of NAS to the backup by LTO tape.
Initially, when the problem was occurred, we tried to examine various ways. We thought to expand the capacity of NAS is only way to resolve the problem by considering the usage level of the file server.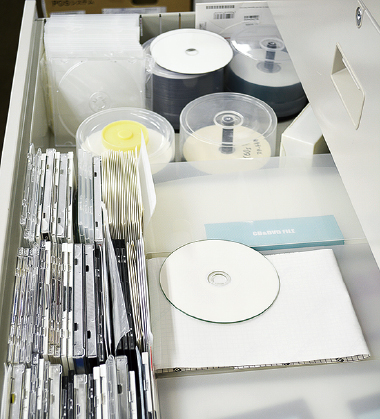 However, there is very few high capacity NAS and we found that the large amount of money will be required for the large-scale structure in order to create an ideal environment we thought. At that time, we received an invitation of backup seminar and heard for the first time about LTO tape & LTFS in the seminar. It was our surprise to hear about the recent LTO tape because we understood that tape backup was made by unit of file and was mainly used for backup of large data. Since the LTO tape can be operated by drag-and-drop same with the conventional DVD copy, we felt the LTO is very useful." Also, "We have stored catalog data to MO, CD or DVD discs until then. Even the data is for one season, the data was divided in many discs because the capacity of the data exceeds the capacity of a disc. In this case, we had to make extra efforts to find out the right media which saved a picture we want to use." Also, according to the corporate policy, it was prohibited to store the data to any external devices. This is another issue we have to resolve." Mr. Yuda/Information System section said."If LTO will be used, data of one season can be stored to one cartridge and we can make folders in the file. It is good advantage to store the one season data in one cartridge instead of 10 DVD discs. In addition, the LTO tape needs the external drive when data is stored. This is good for security in compare with CD, DVD or USB memory which does not require special equipment. We felt this is the best solution."
Even the device is LTO tape, it can be connected by USB easily. "LTO60" can expand the possibility of backup.
During we were in trouble, we found "LT60 USB". Our knowledge about LTO is connection by SAS to server or big size such as rack mount type. However, the LT60 USB can connect by USB3.0, its size is compact, and inexpensive. This fits with what we have been looking for. After introduction of the device, the benefits are large since we can share the device by different groups even catalog production group is using Mac and system group is using Windows PC and the located floor of both group is different. Basically, the drive stays in production side regularly to store the catalog data to the LTO tape. However, we bring the drive when system side needs to store the data or to take system backup just before the cut-over. If it is rack mount type, we cannot do this. Using this drive is really convenient." Mr. Maeda and Mr. Yuda said.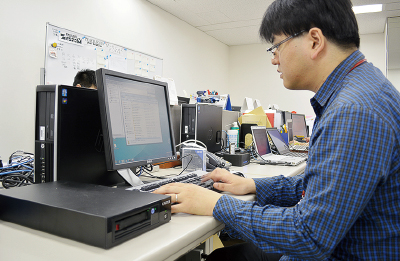 "It is a big advantage that we can archive the data to LTO instead of the troublesome work to organize the file server." Mr. Yuda said.
Low cost and easy
"LT60 USB" expands the possibility of backup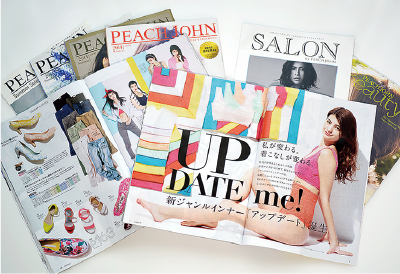 The catalog is in-house production. It is published every season spring, summer, autumn and winter. The amount of the data is up to about 2.5TB per year.
A company which is similar size with our company cannot spend a lot of money to archive the data which will not be used frequently. However, such a data is very important and will become the company's assets. Therefore, we have to keep the data firmly. I think there are many companies who have this kind of dilemma. To such companies, "LT60 USB" which is reasonable price and easy to use, will be very suitable since purpose of the usage can be expanded. There are big difference on the expense and efforts to add a NAS disk and to buy a LTO tape. So, if you make a backup cheaply and easily, we would like to make a backup as much as possible. " Mr. Yuda said.
Product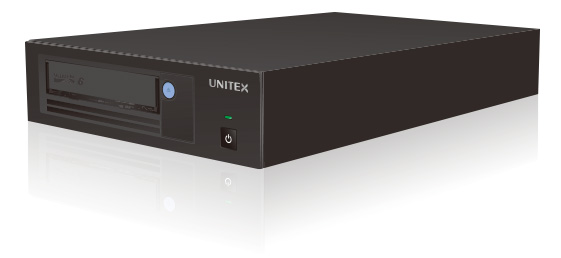 2.5TB (Native), 6.25TB (2:5:1 compressed) data capacity per one LTO-6 tape
Maximum 140MB/Sec high access speed
By "Plug & Play" of USB function, user can use the drive with multiple systems such
 as server and note PC
Supports Linux/Windows/MacOS. Data can be exchanged regardless the platforms
LTFS function
(Linear Tape File System)
Easy data access and management can be done as well as files on disk, in the LTO tape
By common file/folder operation such as "Drag & Drop", it can read and write LTO easily.
Possible to share the data in between different OS
Handles big data in broadcasting, video, surveillance camera and medical industry
Proceeds the work by sharing large amounts of data with other companies
Studies the archives destination of the video assets
Delivers the video related data for post-production
Delivers and stores CAD/CAM design
Organized and centralized management of image processing and medical record
 in the medical field
* The listed company name and product names are registered trademarks or trademarks of their respective owners. The descriptions are as of July 2015.
 Please note that the information contained in this catalog is information at the time of interview and it may have been changed when it is viewed. time it is viewed. Unitex Corporation