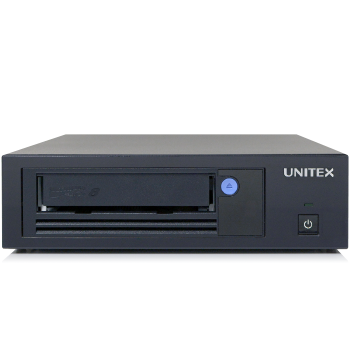 LT80H/70H/60H/50H USB
LT80H/70H/60H/50H USB/SAS
LT80/70/60/50 SAS

High Speed USB/SAS interface LTO tape drive

USB/SAS interface HighSpeed LTO tape drive supporting
the latest large capacity LTO-8
Features
Entry model with USB3.0/SAS interface which pursues easy of use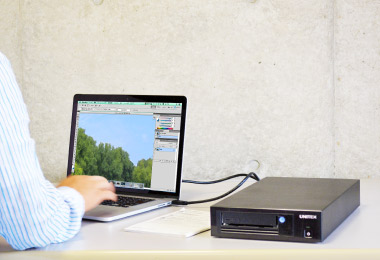 World's first USB3.0 interface tape drive developed by UNITEX
Easy to use without requiring special knowledge and skills
Ideal as an entry model for backup and archive in small offices
USB/SAS Hybrid model can selectively use USB3.0 and SAS interface according to the scene
USB3.0 interface and High Speed data transfer (240MB/s)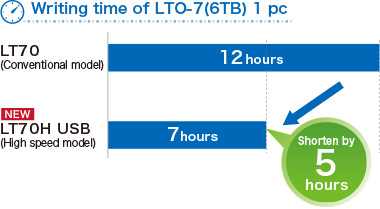 LT70H USB achieves a 70% improvement in data transfer speed over the conventional LT70 USB. It can be used easily on laptop PCs that can not install SAS interface. Because data transfer speed has drastically improved to 240MB/s ,which is very thin for SAS interface, it is easy to handle and the benefit to a stress-free backup/archive are immeasurable.
Supports global industry standard backup software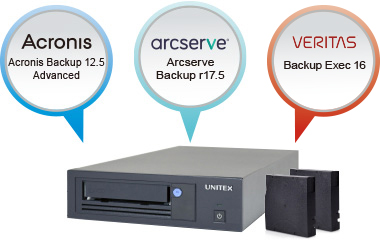 UNITEX LTO tape drive supports Acronis Backup, Arcserve Backup, VERITAS Backup Exec, Quest NetVault Backup, etc.


LTO tape drive as a countermeasure for Ransomware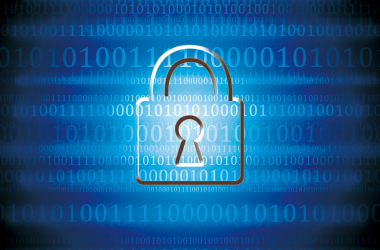 It is not possible to access from network because LTO tape is managed off-line.
Data can be retrieved without depending on the computer by using LTFS3000.

Software
Bundles GUI utility which enables all the operation
of LTFS on one window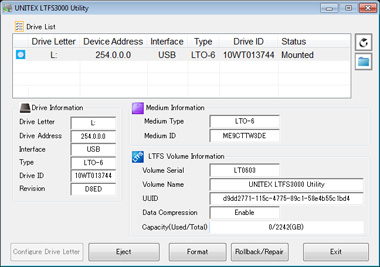 LTO Tape File System Software
LTFS3000 GUI utility
Enables all the operation of LTFS on one GUI.
Enables data transfer/copy/deletion by drag & drop operation from Windows Explorer and Mac Finder easily.
Multiple LTO drives can be used in parallel in one system.
Data can be shared and exchanged in multiple OS environments (Windows, Mac, Linux)


Archive software providing data storage
and off-line management function (Optional)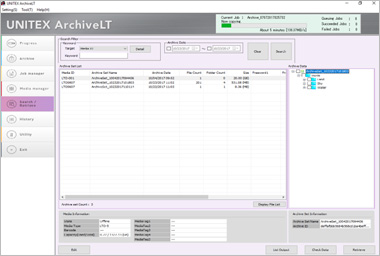 LTO Archive software
UNITEX ArchiveLT
Archive large amounts of data such as video data and surveillance camera data
High speed archive & retrieve
Off-line management for the archived data
Reliable Job History Management function
Consistency check for the archived data
Import media management information from other software


Data copy software (Optional)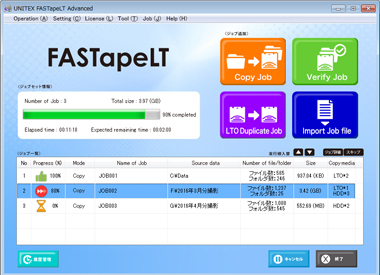 LTFS Data copy software
UNITEX FASTapeLT Advanced
Simultaneous copy to maximum 4 media (LTO/HDD)
High speed copy by UNITEX unique algorithm to shorten the processing time
Execute integrity check of copy data by verify function
Job history management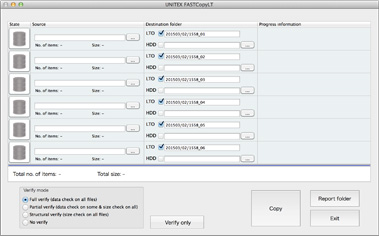 LTFS Data copy software
UNTEX FASTCopy LT

Example of using UNITEX LTO tape drive
Easy backup/archive from a laptop PC to an LTO tape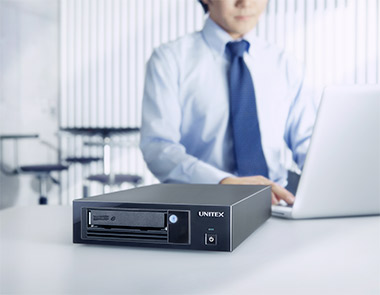 Ideal as an entry model of LTO tape drive
Ideal for hardware migration in a small-scale environment where backup and archive with DAT160 was executed
Realize the storage of large amounts of data by supporting the latest LTO-8
Space saving of tape storage location
Storage of large amounts of high resolution video data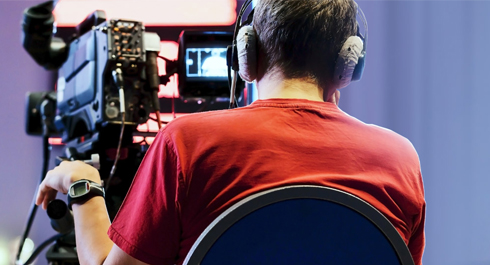 Archive video asset such as film/VTR
Responding to archive media's requirements as the amount of video data increases
Archive data shot by surveillance camera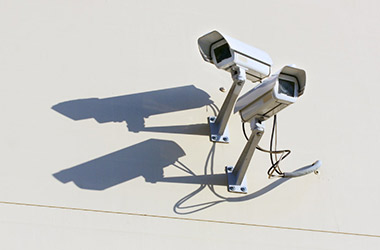 Archive large amounts of video data under the situation that the number of surveillance cameras with high resolution/colorization increase, which are used in various scenes such as crime prevention, food defense, etc.
Storage of electronic medical record/medical image data,
Data exchange with other hospitals/research institutes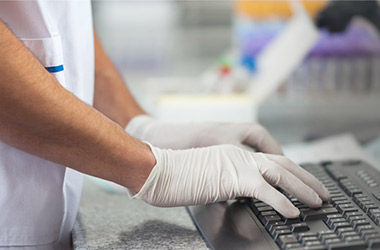 Archive large amounts of data that increase in volume due to higher resolution of electronic medical record/medical image data
Long-term storage of medical data, Exchange of data between hospitals

Specification
High Speed USB3.0 LTO tape drive
Model
LT80H USB

LT70H USB

LT60H USB

LT50H USB

Drive Type
LTO Ultrium8
LTO Ultrium7
LTO Ultrium6
LTO Ultrium5
Interface
USB3.0
Capacity
12.0TB (Native) /
30.0TB (2.5:1 Compression)
6.0TB (Native) /
15.0TB (2.5:1 Compression)
2.5TB (Native) /
6.25TB (2.5:1 Compression)
1.5TB (Native) /
3.0TB (2:1 Compression)
Native data transfer (Max)
USB3.0: 240MB/sec

USB3.0: 240MB/sec

USB3.0: 160MB/sec

USB3.0: 140MB/sec

OS support
Mac OS X / Windows / Linux
Dimensions (mm)
215(W) x 370(D) x 60(H) mm
Power consumption
65VA
Weight
4.5kg
Contents
LTO Tape Drive
USB3.0 cable
Cleaning cartridge
User guide (English)
UNITEX LTFS3000 software (English)
High Speed USB3.0/SAS LTO tape drive
Model
LT80H USB/SAS

LT70H USB/SAS

LT60H USB/SAS

LT50H USB/SAS

Drive Type
LTO Ultrium8
LTO Ultrium7
LTO Ultrium6
LTO Ultrium5
Interface
USB3.0/6Gbps SAS
Capacity
12.0TB (Native) /
30.0TB (2.5:1 Compression)
6.0TB (Native) /
15.0TB (2.5:1 Compression)
2.5TB (Native) /
6.25TB (2.5:1 Compression)
1.5TB (Native) /
3.0TB (2:1 Compression)
Native data transfer (Max)
USB 3.0: 240MB/sec
6Gbps SAS: 300MB/sec
USB3.0: 240MB/sec
6Gbps SAS: 300MB/sec
USB 3.0: 160MB/sec
6Gbps SAS: 160MB/sec
USB 3.0: 140MB/sec
6Gbps SAS: 140MB/sec
OS support
Mac OS X / Windows / Linux
Dimensions (mm)
215(W) x 370(D) x 60(H) mm
Power consumption
65VA
Weight
4.5kg
Contents
LTO Tape Drive
USB3.0 cable
Cleaning cartridge
User guide (English)
UNITEX LTFS3000 software (English)
SAS LTO tape drive
Model
LT80 SAS

LT70 SAS
LT60 SAS
LT50 SAS
Drive Type
LTO Ultrium8
LTO Ultrium7
LTO Ultrium6
LTO Ultrium5
Interface
6Gbps SAS
Capacity
12.0TB (Native) /
30.0TB (2.5:1 Compression)
6.0TB (Native) /
15.0TB (2.5:1 Compression)
2.5TB (Native) /
6.25TB (2.5:1 Compression)
1.5TB (Native) /
3.0TB (2:1 Compression)
Native data transfer (Max)
6Gbps SAS: 300MB/sec
6Gbps SAS: 300MB/sec
6Gbps SAS: 160MB/sec
6Gbps SAS: 140MB/sec
OS support
Mac OS X / Windows / Linux
Dimensions (mm)
215(W) x 370(D) x 60(H) mm
Power consumption
65VA
Weight
4.5kg
Contents
LTO Tape Drive
Cleaning cartridge
User guide (English)
UNITEX LTFS3000 software (English)